located between Anytime Fitness and Sakura Japanese Restaurant.
Formerly Anderson Chiropractic
of Oshkosh
314 N Koeller St
Oshkosh, WI 54902
(920) 235-0000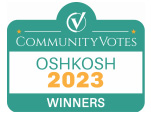 Voted the best in Oshkosh/Platinum Award Winner
Welcome to Oshkosh Spine Wellness Center. When it comes to helping you, Oshkosh chiropractor Dr. Augustine relies on his 9 years of experience with thousands of successful results. In addition to his Doctorate of Chiropractic and Bachelor of Biology from NWHSU, Dr. Augustine spent 5 of the 9 years in practice in the Twin Cities area and had the privilege of working with some of the top chiropractors, with some of the largest practices, in the state of Minnesota
Dr. David Augustine and his staff take pride in being able to serve you, the residents of Oshkosh, Wisconsin, as well as other surrounding towns and communities in the Winnebago Region. As a full-service chiropractic office, you will receive highly skilled professional chiropractic services in a relaxed and welcoming environment. Individual treatment plans and one-on-one care are used to help you get back on the road to good health.
What You Can Expect When You Visit Our Office
Medical history & Physical Examination: Dr. Augustine will use this time to get to know you and determine if chiropractic care benefit you. He will conduct a thorough analysis using several criteria to identify the specific pain generators in your spine.
Visualization: Visualization is a way to cross-reference all the other findings. Dr. Augustine is an expert in looking for subtle changes in your posture and movement, which could indicate any problems.
Instrumentation: The instrument of choice in the Gonstead System of Chiropractic is the Nervoscope. The Nervoscope detects uneven temperature distributions along the spine which are indicative of inflammation and nerve pressure. Dr. Augustine will guide the Nervoscope down the length of your back. This feels like two fingers gliding down each side of your spine.
Static Palpation: This is simply the process of feeling (or palpating) your spine in a stationary (or static) position. Dr. Augustine will feel for the presence of swelling, tenderness, and any abnormal texture or spasms in the muscles and other tissues of your back.
Motion Palpation: This process involves feeling the spine while moving and bending it at various angles. This enables Dr. Augustine to determine how easy or difficult each segment in your spine moves in different directions.
X-Ray films enable Dr. Augustine to visualize the entire structure of your spine. This is helpful in evaluating posture, joint and disc integrity, vertebral misalignment and ruling out any pathology, or recent fractures that may be present or contributing to the patient's condition.
These full spine radiographs are taken in the standing, weight-bearing position to fully substantiate the examination findings. Why standing?
Most medical x-rays are taken when you are laying down. This is like looking at a flat tire when the car is up on the jack. Sure looks different when the weight is on the tire. The only way to understand the true stress factors affecting your spine is to look at it in a weight-bearing position.
REPORT OF FINDINGS & RECOMMENDATIONS OF CARE
Following our examination, we will report all findings in an easy to understand language. Dr. Augustine will review recommendations for care. Our courteous and friendly staff will help in any way possible. Most insurance companies cover chiropractic care and as a courtesy to you, we complete and file your insurance for you.
A Partial List of Insurance Companies We are In-Network Providers for:
Aetna
Fulcrum/Robin Healthpartners
Network Health Plan
United Health Care
Medicare / Medicaid
UMR
Forward Health / BadgerCare
Start feeling better with Chiropractic care
How We Assess The Spine & Get To The Root Of The Problem
TRUSTED CHIROPRACTOR: READ OUR REVIEWS